Sydney's Contiguous Piling Experts
Contiguous piling involves positioning spaced bored piles that form a strong retaining wall around the perimeter of a building site.
The On Point Piling team has extensive experience with contiguous hand piling, and we specialise in projects that are limited by low head room, difficult access and require minimal disturbance.
Contiguous piling ensures the excavation of a site can be safely undertaken because the interlocked piles provide superior structural support for the surrounding ground and buildings.
On Point Piling is also equipped with machine piling capabilities, which can be combined with hand piling where feasible to meet the needs of just about any worksite.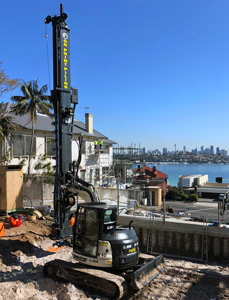 Machine Piling
As Sydney's premier piling and drilling experts, we're thrilled to welcome our new GEAX EK40 Multi-Purpose Piling Rig to the On Point Piling family. While we offer our hand piling services for all every type of construction or renovation project, we also now deliver our CFA piles (Continuous Flight Auger), which is fast, economical and quiet.
Contiguous Piling Gallery
Need a Quote?
Provide On Point Piling with some project details and we'll be in touch with an obligation-free quote.
What we can do
Find out more about the range of services that On Point Piling can provide for projects across Sydney's Eastern Suburbs and Metropolitan area. Our expertly-trained On Point Piling team always strives to deliver the best solution for your unique needs with our trademark stamp of excellence.